From Weight Watchers to Weight Loss Surgery, a Guide to My New Life


NEIL'S WEIGHT LOSS SURGERY PROJECT
---
The Saga | Weight Loss Chart | Surgery Links
---
The Saga

*
Where to begin? Well, if you're like me, you're one of millions of Americans who are obese. Actually, if you're like I was, you're one of the many Americans who are considered Morbidly Obese: that is you're weight is over 150% what it should be (so, if you should weigh 200 and you weigh over 300, you're morbidly obese). By the time I turned 35, I weighed 520 lbs., that's almost 300% of my ideal weight -- a class called Super-Morbid Obesity.
Morbid Obesity defines a point at which your lifespan could be affected. By 35 I was suffering from varying levels of migraines, liver dysfunction, heart palpitations (along with mitrovalve prolapse and a partial thickening of the muscle in one part of the heart), severe foot and back pain, arthritis in the left knee, high cholesterol, borderline high blood pressure and heading into diabetes II. I hadn't worked in months due to the discomfort of moving about and never went anywhere without a cane. I couldn't drive, I couldn't ride in a car for very long without discomfort, I was embarrassed to go out to eat or to the movies because I was afraid I wouldn't be able to sit in a seat without creating a spectacle. In short, I was ashamed of what I had become. The depression that resulted from all this was almost unbearable. Something had to be done.
After several attempts at enforced diets and programs like Weight Watchers (whom I give an enthusiastic "thumbs up" as a great support group -- always give them a try first!), I began to investigate the possibility of WLS (weight loss surgery). Knowing very little about it, I started out only looking at it, but as I did more research and talked to people who had had the various procedures, I found it less and less frightening. The risk of death during surgery was no different than with any other invasive procedure (despite being told the contrary by well-meaning but uninformed opponents of surgery). I found that the benefits strongly outweighed the potential risks, especially considering the risk I was taking staying as big as I was. So I got approval from my doctor, and then the HMO, and saw Dr. Ned Cabot in December of 1999. He started by interviewing me and going over my medical history and doing a survey of my previous weight loss attempts. When he told me that I was qualified for the surgery, that left the decision in my hands. I did some more research, followed up on Dr. Cabot's success rate, got on some mailing lists and consulted with my wife, Beckie. Finally, we decided it was a good idea and, in late February 2000, Dr. Cabot gave me a surgery date of April 18th at Brigham and Women's Hospital.
I had never had surgery before and I certainly was afraid, but I had the support of my family, my loving wife, my church and a whole community of supporters on the Net. All in all, my surgery went extremely well -- practically textbook. I was in and out in less than three hours and, with only a small complication relating to my epidural (the very small tube that is put into the spine to deliver painkiller and numb the area of your abdomen where the incision occurs), I was in my room within 5 hours and walking -- yes WALKING -- an hour after that. I had a good surgical team, some great nurses who talked to me when I was feeling scared, and a number of friends who came and visited me. My father and his wife flew out to be with me, as well as my in-laws, and my wife, Beckie, was with me whenever she could be. I even had a friend from the Net, my angel Annie, stop by and bring me "get well" e-mails from the on-line gang! After five days, on Easter Sunday, I was sent home to recover.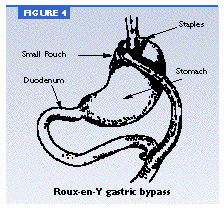 The procedure I had was a Roux-en-Y (RNY) Gastric Bypass (RGB), the most common form of WLS performed today. The figure at the right (taken from the National Institute of Diabetes & Digestive & Kidney Diseases page on Gastric Surgery for Severe Obesity) shows how the procedure looks when it is finished. First, the surgeon makes an incision from the bottom of the breastbone to just above the navel in order to gain access to the stomach. A small pouch (about the size of an egg) is created by using a special gun that lays down several rows of staples, sealing off the vast majority of the stomach. This restricts the amount of food the patient can take in at one sitting. After that, a section of small intestine from further down the line (called the jejunum) is attached to the pouch to allow food to be passed through. This reduces calorie and nutrient absorption. The duodenum, which comes off the sealed-off portion of the stomach, is then connected to the segment that comes from the pouch, allowing the enzymes and digestive juices produced by the lower part of the stomach to be passed through and thus still be utilized in the digestive process.
This form of the surgery provides certain benefits, in particular the elimination of acid reflux, a disease that many obese people suffer from. It also causes what is known as "dumping syndrome", a beneficial Pavlovian effect which makes the person "uncomfortable" (i.e.: anything from feeling light-headed to becoming weak or nauseated) when too much sugar or fat have been taken in, thus conditioning people to avoid those foods in large quantities. I myself don't experience much of the Dumping Syndrome, and not everyone does, but I have still managed to wean myself off of fried foods and soda anyway.
One of the problems with this procedure, however, is that it causes a reduction in calcium and vitamin C absorption, since the duodenum is where those nutrients are mostly absorbed. Most other nutrients are affected by this change as well, so chewable vitamins are advised, as well as vitamin C tablets and calcium supplements like Viactive. Some people, either temporarily, or in rarer cases, permanently, have trouble digesting dairy products (lactose) after surgery and need to change to an acidophilus milk or take something like Lactaid. In my case it was only temporary, but in any event I have weaned myself off of a lot of dairy. I simply don't crave it like I used to and now it's just a treat.
The focus of the post-surgical diet is protein, protein, protein! Patients will be on a primarily high-protein diet afterwards. Starting with liquids like Carnation Instant Breakfast and moving up to eggs, cottage cheese, etc. and finally back to regular meats like chicken and fish. Many people find they cannot handle beef afterwards, however. I can handle things like meatloaf, but not a steak. I do get to enjoy my favorite sushi/sashimi, though, and that's a blessing because there's protein aplenty there. :)
| | |
| --- | --- |
| | |
| | |
Now, this is where I had trouble (just so you know the whole thing isn't a perfect process for everyone). I had a lot of problems adapting to eating smaller bites and spacing them out. I also couldn't handle water very well. I just couldn't get it down. It got to the point where I was gulping and purging liquids just to satisfy my craving for consuming for comfort and I finally had to stop eating solids and go strictly with liquid protein. At this point my weight loss almost stopped. I consulted with the surgeon and his nutritionist at a support group meeting and they worked with me to develop a way to start eating right. It took two months, but I eventually got into the habit of eating and drinking properly. Now I can eat out and pace myself, or I can eat at home and do the same. Yes, I still make mistakes and overeat, but I'm much further along than I was before. My nutritional intake is doing so well now that my weight loss has picked back up again. I can take long walks and have tons of energy. One of the results of using that energy is this website!
For those who have heard people like Oprah go on about how the surgery is a copout, let me tell you this: I have never done anything in my life that was more difficult and it's permanent. It will never be reversed. There is no time off for good behavior. It is a change that will affect me for the rest of my life. There is nothing easy about this.
It doesn't end with making the decision, or even undergoing the procedure, either. Those are just the beginning. The months following surgery involve a complete re-education on how to eat; it involves a wide-range of emotional changes, from joy to frustration; and it entails adjusting to an all-new you. Water becomes your best friend and you have to learn to drink it all through the day or you'll get dehydrated. You have to reintroduce things like dairy products to your body because how they are processed is changed. You have to take vitamin supplements. You have to learn to take small bites, chew thoroughly. and space the bites apart or you'll overfill and have to bring the food back up. You must exercise (I started swimming after 3 weeks, which really helped me recover, as well as stave off my dehydration and appeal to my water fixation). You must follow-up with the surgeon. You must see a nutritionist. You will be taking care of yourself like you never did before. But what's wonderful is that you'll want to! Seeing the weight come off, feeling so much better about yourself, these things all work together to make you want to keep up with where you're going. It all begins to snowball after you recover from surgery and begin learning to eat again.
The initial post-surgery diet emphasizes protein. Most everyone starts out on some kind of liquid diet, usually Carnation Sugar-Free Instant Breakfast, and as much water as they can handle. After about a week you can add cottage cheese and finely-chopped chicken or fish. As time passes, you can experiment with adding things. Everyone varies, but within a few months most people are back to eating regular foods, in small quantities of course. There will be some things you can't eat like you used to and some you won't want to eat, such as fried foods. But often the craving to eat like you once did will return and that's where support groups can be the biggest help. There are lots of options out there to help you survive and other people are the key to most of them. This is something you don't want to do on your own!
Several things helped me get through this re-education and adaptation process. One was attending regular support-group meetings. If it hadn't been for the surgeon and his staff nutritionist giving me advice at the 3 month point, I don't think I would have had the the strength a month later to help a friend of mine get out of a near-drowning experience at the beach. Joining an on-line support mailing list has also helped -- both before and after the surgery. Egroups has a number of OSSGs (Obesity Surgery Support Groups) listed, many of them are set up by region or by state. We took photos before the surgery and at regular intervals afterwards. I weighed myself every Wednesday and took measurements regularly to chart my progress. My wife kept a spreadsheet of the details (see below). Friends, family and church were also a big asset. Even the folks at Weight Watchers were supportive, which surprised me a little.

Just to show you some of the benefits of the surgery, let me cover some of the changes I have gone through: I don't experience headaches or foot pain in any significant way, my arthritic left knee and back are pretty much pain-free, I don't use a cane, I can walk without having to stop for a rest every 3 blocks, I can go to the movies or out to dinner without worrying about fitting into seats and I can look in the mirror and not be offended by what I see anymore. There is nothing quite like thinking of yourself as a human being again (not to mention having people faun over you and say how good you look ;) ).
No, the surgery isn't for everyone. Yes, there are people who have defeated it by learning to eat continuously, in small portions, and to eat the wrong things. There are people who have constantly stuffed themselves and pulled the staples apart. But these are a small number of the cases. The results I have seen in other people have been astounding. I have met people whose stories have echoed my own -- a lifetime of eating for comfort, to mask poor self-esteem, and to avoid the world around us -- and their post-surgical life has been a blessing to them! Even if you are not considering the surgery, or don't even have a weight problem, at least keep this in mind before you judge people too harshly for their choices. For some of us this was a last, desperate, attempt to save our lives.
---
The Saga | Weight Loss Chart | Surgery Links
---
Neil's One Year Post-Surgery Weight Loss Chart

*
After the surgery, Beckie began to keep track of my weight loss with a spreadsheet at work. The following is a table derived from that chart which shows the progress of my weight loss since April 18th, 2000. It'll be updated from time to time, so be sure to refer back to it! If you'd like to view or download an Adobe Acrobat PDF file of the most recent spreadsheet, click here.
Month

Date

Weight
(in lbs.)

Week

Weekly
Change

%
Previous
Weight

Loss
to
Date

%
Body
Weight

Interim
Goals

Weekly
Avg

% Goal
(300 lbs.)

April '00

10

517

Starting Weight

18

Day of Surgery

25

489

1

-28

-5.4%

-28

-5.4%

< 500#

n/a

-9.3%

May

3

474

2

-15

-3.1%

-43

-8.3%

-21.5

-14.3%

10

462

3

-12

-2.5%

-55

-10.6%

50# lost

-18.3

-18.3%

17

445

4

-17

-3.7%

-72

-13.9%

-18.0

-24.0%

24

445

5

0

0.0%

-72

-13.9%

-14.4

-24.0%

31

433

6

-12

-2.7%

-84

-16.2%

-14.0

-28.0%

June

7

422

7

-11

-2.5%

-95

-18.4%

-13.6

-31.7%

14

417

8

-5

-1.2%

-100

-19.3%

100# lost

-12.5

-33.3%

22

410

9

-7

-1.7%

-107

-20.7%

-11.9

-35.7%

29

401

10

-9

-2.2%

-116

-22.4%

-11.6

-38.7%

July

5

394

11

-7

-1.7%

-123

-23.8%

< 400#

-11.2

-41.0%

12

387

12

-7

-1.8%

-130

-25.1%

-10.8

-43.3%

19

380

13

-7

-1.8%

-137

-26.5%

-10.5

-45.7%

26

371

14

-9

-2.4%

-146

-28.2%

-10.4

-48.7%

Aug

2

363

15

-8

-2.2%

-154

-29.8%

150# lost

-10.3

-51.3%

9

360

16

-3

-0.8%

-157

-30.4%

-9.8

-52.3%

16

367

17

7

1.9%

-150

-29.0%

-8.8

-50.0%

23

363

18

-4

-1.1%

-154

-29.8%

-8.6

-51.3%

30

358

19

-5

-1.4%

-159

-30.8%

-8.4

-53.0%

Month

Date

Weight
(in lbs.)

Week

Weekly
Change

%
Previous
Weight

Loss
to
Date

%
Body
Weight

Interim
Goals

Weekly
Avg

% Goal
(300 lbs.)

Sept

6

356

20

-2

-0.6%

-161

-31.1%

-8.1

-53.7%

13

353

21

-3

-0.8%

-164

-31.7%

-7.8

-54.7%

20

352

22

-1

-0.3%

-165

-31.9%

-7.5

-55.0%

27

348

23

-4

-1.1%

-169

-32.7%

< 350#

-7.3

-56.3%

Oct

4

343

24

-5

-1.4%

-174

-33.7%

-7.3

-58.0%

11

337

25

-6

-1.7%

-180

-34.8%

-7.2

-60.0%

18

331

26

-6

-1.8%

-186

-36.0%

-7.2

-62.0%

25

330

27

-1

-0.3%

-187

-36.2%

-6.9

-62.3%

Nov

1

328

28

-2

-0.6%

-189

-36.6%

-6.8

-63.0%

8

328

29

0

0.0%

-189

-36.6%

-6.5

-63.0%

15

326

30

-2

-0.6%

-191

-36.9%

-6.4

-63.7%

22

321

31

-5

-1.5%

-196

-37.9%

-6.3

-65.3%

29

319

32

-2

-0.6%

-198

-38.3%

-6.2

-66.0%

Dec

6

316

33

-3

-0.9%

-201

-38.9%

200# lost

-6.1

-67.0%

13

312

34

-4

-1.3%

-205

-39.7%

-6.0

-68.3%

20

309

35

-3

-1.0%

-208

-40.2%

-5.9

-69.3%

27

306

36

-3

-1.0%

-211

-40.8%

-5.9

-70.3%

Month

Date

Weight
(in lbs.)

Week

Weekly
Change

%
Previous
Weight

Loss
to
Date

%
Body
Weight

Interim
Goals

Weekly
Avg

% Goal
(300 lbs.)

Jan '01

3

307

37

1

0.3%

-210

-40.6%

-5.7

-70.0%

10

305

38

-2

-0.7%

-212

-41.0%

-5.6

-70.7%

17

306

39

1

0.3%

-211

-40.8%

-5.4

-70.3%

24

304

40

-2

-0.7%

-213

-41.2%

-5.3

-71.0%

31

301

41

-3

-1.0%

-216

-41.8%

-5.3

-72.0%

Feb '01

7

296

42

-5

-1.7%

-221

-42.7%

< 300#

-5.3

-73.7%

14

293

43

-3

-1.0%

-224

-43.3%

-5.2

-74.7%

21

290

44

-3

-1.0%

-227

-43.9%

-5.2

-75.7%

28

283

45

-7

-2.4%

-234

-45.3%

-5.2

-78.0%

Mar '01

7

280

46

-3

-1.1%

-237

-45.8%

-5.2

-79.0%

14

280

47

0

0.0%

.237

-45.8%

-5.0

-79.0%

21

274

48

-6

-2.1%

-243

-47.0%

-5.1

-81.0%

28

278

49

4

1.5%

-239

-46.2%

-4.9

-79.7%

Apr '01

4

276

50

-2

-0.7%

-241

-46.6%

-4.8

-80.3%

11

273

51

-3

-1.1%

-244

-47.2%

-4.8

-81.3%

18

272

52

0

0.0%

-244

-47.2%

ONE YEAR

-4.7

-81.3%
---
The Saga | Weight Loss Chart | Surgery Links
---
Surgery Links and Related Items

*
A Doctor in Your House.Com: Actress Stephanie Powers' site which uses celebrity stories to spread awareness and encourage people to act for their own health. This site features the story of singer Carnie Wilson's battle with obesity and her successful gastric bypass surgery.
American Society for Bariatric Surgery: Mostly for members of the Society, but there are some very informative sections on the rationale for performing surgery and on the history of the surgery itself.
Association for Morbid Obesity Support: This is the site that helped me the most. All sorts of info, including profiles of scores of members (many with before and after pics), surgery info, listings of surgeons, and a wonderful chat room. Lots of people to talk to, lots of stories to hear!
Gastric Surgery for Severe Obesity: A site from the National Institutes of Health which explains the basics of the digestive process and how the various types of surgery affect it, as well as criteria for determining a person's suitability for surgery and details of the risks and benefits.
OSSG-NewEngland Mailing List: An eGroups mailing list for people in the Northeastern US who have had, or are considering, obesity surgery.
---
The Saga | Weight Loss Chart | Surgery Links
---